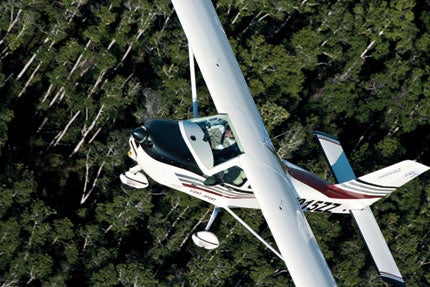 In 1999, an up-and-coming drummer man named Dylan Redd had a terrible car accident that broke his back. Several major surgeries and two years of constant, sleep-depriving pain drove him to the brink of utter despair. Sheer will to live pulled him through.
By 2003, recovered and using a wheelchair to get around, Dylan looked his new world in the eye and decided to have a life again. Strapped for cash, he founded QualityMed Inc., a medical equipment and supply business, which quickly prospered.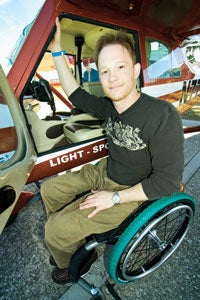 Dylan Redd and his Paradise P1.
That gave him some options. One day, on an airline flight, Dylan met Mitch Hansen of Hansen Air Group (www.hansenairgroup.com), an LSA distributor. Hansen told Dylan about his Sky Arrow—with hands-only controls. Dylan visited Hansen Air Group a week later, sat in the airplane, thought about it and…"I was hooked."

Handy Flight
Flash-forward to a sunny pre-spring day in Sebring, Fla. I watched Dylan roll his wheelchair up to his just-delivered new Paradise P1, open the wide, front-hinged composite door and lift himself into the left seat. He strapped in, reached down, collapsed the chair, pulled it across his body and stowed it in the spacious cargo area (18 cubic feet) behind him. Nothing to it.
"The P1 was the obvious choice for me," he asserted. "In most light-sport airplanes, there's simply no room for myself, a passenger, an overnight bag and my chair. In this plane, there's room for that and more."
That cargo space derives from the airplane's pedigree. It was sired in Brazil eight years ago as a four-seat experimental airplane; about 90 P1s now serve ranchers and other pilots down there.
---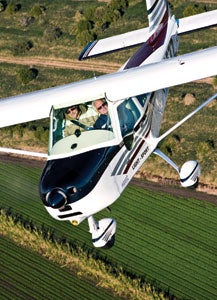 Although the P1 S-LSA is legally limited to 75 pounds of baggage in the rear area, that space can carry surfboards, golf clubs, skis/snowboards or those bronzed tiki torches you couldn't pass up at the swap meet. And get this: Take 15 seconds, pop out the right seat, and there's even room to sleep. The dual panel-mounted yokes leave the floor clear.
The experimental P1, certified in Brazil at 1,650 pounds, has a +4/-2 G-load factor. The tested ultimate load is more than +6/-3 G's. The S-LSA version is built to the exact same specs. So, although an S-LSA can't carry more than 1,320 pounds, the airplane is still stress-tested to the higher weight. Doing the math shows an ultimate load factor of around +7.5 G's!

Noe's Arc
Paulo Oliveira and Noe (pronounced "Noah") Oliveira, although unrelated, are longtime friends and partners in the Paradise enterprise. Paulo and son Chris Regis run the U.S. distributorship, Paradise USA (www.paradiseaircraft.us), in Sebring. Noe designed the P1.
When Dylan asked Paradise about a hand controller, Noe's ears perked right up. "He's a creator," says Paulo. "He thrives on a challenge—that's his bag."
So eagerly did Noe tackle the project, that—in spite of his other duties wrangling Paradise Brazil—he designed, built, tested and delivered the modifications in three short months!
"The most important thing for us," says Paulo, "was the smile on Dylan's face. He test-flew it, made some final adjustments and flew it home with his instructor."
Noe Oliveira tailored Dylan Redd's Paradise P1 to fly with hands-only controls. The split brake lever pivots up from the floor (far left) and the console-mounted T-handle (middle) controls the nosewheel, rudder and throt
Was it difficult to design a hands-only control system? "Not really," says Noe. "I feel very proud and happy to have created something that could make a lot of pilots happy."
I ran my hands over the shiny carbon-fiber weave of the console-mounted T-handle and asked how the system works.
"Dylan requested the T-handle on his right instead of the left," recalls Noe. "The T-handle has two functions: Move it forward for nosewheel right; pull backward for nosewheel left. The same movements work the rudder in flight. The top part of the T-handle controls throttle. Twisting clockwise accelerates, counterclockwise decelerates. So you have two movements in one control. There's also a PTT on the handle for radio."
Had I heard wrong? Wouldn't moving forward/back for throttle and twisting left/right for rudder, like a home flight-simulator joystick, be more natural? I asked Dylan to confirm the setup. "No, that's right," he replied. "Although, now that you mention it, maybe it would have made more sense to move the handle left and right for rudder!" The important thing is the young man is adapting just fine.
---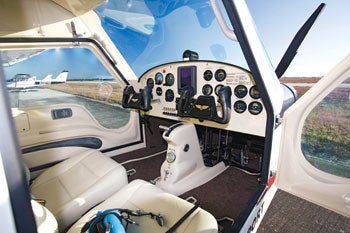 The standard Paradise P1 features an all-leather interior, a roomy panel and a wide, comfortable cabin
"I'm very happy with the flight characteristics," said Dylan. "It's extremely stable in bumpy air. The airframe is built like a tank—it has large-diameter steel tubing. You can tell this plane wasn't designed as a light-sport."
To round out the suite of hand controls, Noe built a split brake lever that pivots up from the floor. Heavy-duty hydraulic brakes are actuated by Dylan's left hand, one at a time or together. "The whole system lets him taxi with his right hand, and communicate, accelerate and brake with his left hand," says Paulo. "For flight, he stows the brake control flat on the floor, then pulls it back up for landing and taxi."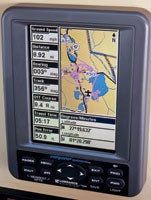 Powered by a 100 hp Rotax 912 ULS, the LSA can be equipped with an optional Lowrance AirMap 2000 GPS
Noe and Dylan's collaboration showcases a benefit of the LSA philosophy and implementation. Manufacturers can continue R&D refinement and testing without having to invest bargeloads of bucks for full FAA certification. Think about how many physically challenged people might now fly an LSA who never would have flown otherwise.

Jumping Upstairs
My turn to fly! My dreams of Paradise were delivered, thanks to Ed Ricks. His Sport Plane Dynamics (www.sportplanedynamics.com) is a Glendale, Ariz., Paradise dealership. Ed cheerily delayed his plans to take me up in his own P1.
The P1 is a beautifully finished airplane with a quality all-leather interior that feels secure and comfortable. A roomy panel with steam gauges and the five-inch Lowrance AirMap 2000 GPS evoke a traditional/new tech mix.
At 43.3 inches, the cabin is nearly four inches wider than that of a Cessna 172. The conventional controls are well placed and logical: The throttle lever and manual rudder and stabilator trim knob live on the center console. Dual carbon-fiber yokes, nosewheel steering, toe brakes—shades of Wichita Tin. This beauty is clean and bright, carpeted and has big, composite, front-hinged doors for easy ingress—an all-around tastefully finished airplane that's also built like a truck.
We effortlessly lifted from the tarmac, tugged along by the industry-standard 100 hp Rotax 912 ULS. I loved the sight picture over the nose, which angles down for a great forward view. The side view is good too, although, because the top of your head is up inside the wing root, you have to duck forward a bit to see out along the wing bottom to the tip. Still, the viz down and back is great; you just feel slightly more enclosed here than in some high-winger LSA.
---
The Paradise P1 felt comfortable in flight—responsive yet stable and forgiving in pitch due to the nicely damped all-flying stabilator. You're not in danger of inadvertently going over the falls if you're too aggressive with the yoke—a good trait for students just starting out.
Aesthetically, handling balance is sweet and smooth, and roll is solid and predictable. Borrowing from Shakespeare's Polonius, "Neither too snappy nor too sluggish be," P1 obeys by rolling somewhat easier than a Jabiru 230 but needs slightly more muscle than Tecnam's Eaglet or the Rider MD3.
In a nutshell, the P1 is forgiving, easy to fly and great for training. In climb, I saw 800 fpm or more—plenty peppy to get you up and away. Rudder inputs are minimal, unlike some LSA. It's a relaxing airplane to fly. And even with my headset off, cabin noise level seemed pleasantly low.
And although not superfast at 120 mph (I consistently saw more than 115 mph at cruise settings), LSA top legal speed is only 18 mph faster. That's not a big deficit, and you get such a pleasant-handling airplane for the trip.
Low-speed performance is a tad wallowy—not quite as responsive to controls near the stall or in slow flight as the Eaglet, but certainly nominal. And stalls are so undramatic; the P1 doesn't want to break and happily mushes along, nose high. Ease the yoke forward and, bingo, you're flying again.
Easing into final at 70 mph, I crossed the fence at 60, let her settle, and the P1 just floated right onto the tarmac. Such a friendly bird.

A Note From Dylan
A few weeks later, I received an e-mail. I had asked Dylan about his flight home and life with his new airplane.v "Everything is coming along fine, and I am very happy to be flying it. This new setup is backwards (from what I trained on), so it's taking me a little time to develop the proper muscle memory.
"I expect to fully transition soon and be ready for some cross-country flying. I set this plane up for long cross-countries with the Garmin 696, Trio Pro Pilot autopilot and long-range tanks. This plane can go about seven hours without refueling, which is farther than I can go! I have flown about 10 hours so far and, by Sunday, that total will be 20 hours."
Now, you know that anybody who anticipates doubling his or her flight hours by the weekend is a pure aviator. Factor in the heart of a lion, and you have the definition of warrior…in Paradise.