Monday, January 1, 2007
Flight Design CT Best Of The LSAs?
Worth Every Penny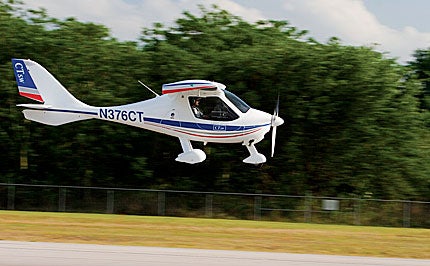 Light sport aircraft come in a variety of flavors. If you're inclined to go traditional, you can opt for the Legend Cub, an upgraded copy of the venerable J-3. At the opposite end of the LSA spectrum, many pilots are selecting the Flight Design CT.
Flight Design's LSA is a German product constructed in the Ukraine almost entirely from carbon fiber and Kevlar composites, and in many respects, it seems almost antithetical to the whole concept of an LSA, by definition, a minimal, entry-level airplane. Though Flight Design's airplane complies with all parameters of LSA certification, it's nevertheless one of the most sophisticated aircraft in the class. It was one of the first LSAs approved by the FAA, and it was granted its certificate at the 2005 Sun 'n Fun air show in Lakeland, Fla.
Apparently, many European pilots have long since acknowledged Flight Design's talents, as some 600 of the type have been sold in Europe since the company began offering the CT (Composite Technology) in 1998. In fact, the CT has been so successful that Matthias Betsch, president of Flight Design in Echterdingen, Germany, recently announced a 90,000-square-foot expansion to the Ukrainian factory.
Betsch feels the expansion should allow production to double in 2007, with as many as 100 airplanes earmarked for the critical U.S. market. Those will join probably another 100 CTs already operating inside American airspace.
Flight Design USA (
www.flightdesignusa.com
) of South Woodstock, Conn., is the United States' sole importer of the CT aircraft. Owner Tom Peghiny is one of the advisors for the LSA movement in this country. Peghiny also manufactures the very popular FlightStar series of lightweight aircraft, and imports the HKS four-stroke engine.
Sebring Aviation (
www.sebring-aviation.com
) in Sebring, Fla., is the Southeast regional distributor, and Sebring's John Hurst says the airplane has been well received in his area. "It's a very modern design," says Hurst, "more reminiscent of a fully certified airplane in many respects. It features a ballistic parachute as standard equipment, offers one of the largest cabins in the class, can easily accommodate two big men and has plenty of power to provide excellent performance."
Big question first: price? Flyaway list price of the Flight Design CT is $92,900, delivered to the East Coast and ready to fly. That's a fairly basic airplane with no options, but in this case, basic is reasonably outfitted for day VFR. In addition to the standard BRS emergency parachute, the airplane includes full instrumentation, strobes and position lights, plus three-axis manual trim. More on prices later.
Page 1 of 3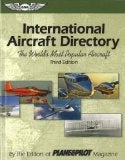 International Aircraft Directory

Plane & Pilot Magazine